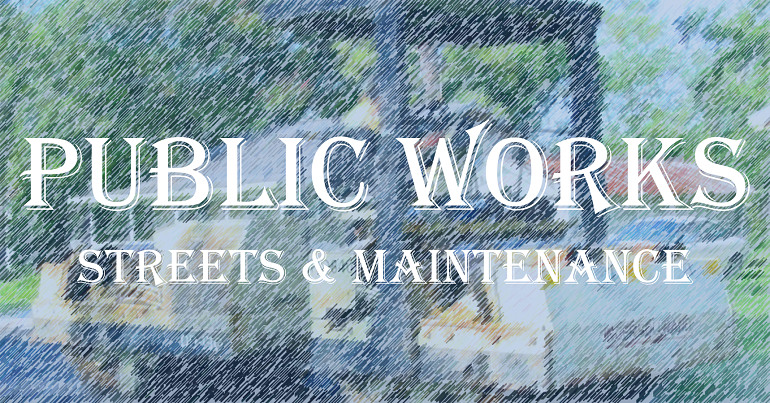 Our maintenance crews are on call after hours, weekends, and holidays for emergencies only. For all after hour emergencies contact the Sulphur Police Department at 337-527-4550.
The City maintains over 100 miles of water distribution pipe ranging in sizes between two and sixteen inches in diameter. This network of piping delivers water for drinking, cleaning, cooking and fire protection to approximately 8,000 households and businesses. Maintenance efforts include leak repair, line flushing and line replacements.
Notice of water leaks should be called in immediately to Public Works - Maintenance at 337-527-4583. If this call is placed outside of Maintenance working hours it will be transferred automatically to a Dispatcher. A description of the leak severity (minor, moderate or major) and the nearest street address or intersection should be provided to the Dispatcher.
Upon notification, a City representative will be dispatched to inspect the reported leak. If the leak may be repaired with personnel and tools on hand, it will be fixed then. If additional resources are required to fix the leak, the leak will be marked with white paint and Louisiana One Call will be contacted. Louisiana One Call has all underground utilities in the vicinity of a proposed excavation located in an effort to protect those utilities. No excavation can be made prior to the expiration of 48 hours from the notice given to Louisiana One Call, outside of emergency circumstances. Leaks are prioritized according to severity and required resources.
Upon expiration of the 48 hour period the higher priority leaks are scheduled for repair. If white paint is present, the leak has been called in and inspected. If multicolored paint is present, utilities have been located and repair should begin shortly.
Time required to complete the repair is monitored. Commencement of the job begins with the inspection. Typically at least 90% of all leaks from minor to major are repaired within ten calendar days. Four of these days may include weekends and the mandatory 48 hour coordination period. Major leaks, of course, are completed in a much shorter time frame.
If you have any questions concerning leak repair you may contact Public Works - Maintenance at 337-527-4583.
Limbs
The City provides for limited removal of yard waste, including limb removal, for approximately 8,000 addresses.
Our solid waste collection contractor will pick up qualifying yard waste which is placed at the curb and is bundled or bagged or is placed within the solid waste container. Collection of this material is weekly, but not necessarily on the same collection day as other solid waste. No bundle or bag may exceed fifty pounds in weight. Tree branches may be up to four inches in diameter and may not exceed five feet in length. All yard waste must be kept separate from any other type of waste such as construction debris or white goods. Excessive quantities may require more than one pick up date. Limiting the quantity per pick up date provides for more efficient service to the remaining pick up sites.
City crews may collect some yard waste not meeting specifications for removal under the solid waste collection contract. The material must be neatly stacked at curbside, separate from any other waste material such as construction debris. Yard waste must be free of dirt or other contaminants. Material must not exceed five feet in length or three inches in diameter. These restrictions are based on the limitations and maintenance requirements of the City's disposal equipment. Placement of the material is usually monitored on a weekly basis, by the City. The monitoring date is typically the work day which follows the solid waste collection service date. Removal of the material should usually occur within ten days of placement.
If the material does not qualify for servicing, a tag should have been placed on the debris providing an explanation. Upon correction of the problem, the location will be scheduled for subsequent servicing.
Non compliant material will eventually be scheduled for removal by the City at the owner's expense. A notification letter will be issued. Following that notice, the City will contract for removal of the debris. Those charges will be assessed to the property owner. Removal by these means is not the preferred procedure. Cooperation in achieving compliance with the restrictions on material will serve to avoid the delay and expense in removing the material by these means.
Collection of yard waste does not extend to debris created by contracted efforts. If a tree surgeon, landscape specialist or other contracted labor removes a tree, performs significant pruning or otherwise generates limb or yard waste debris for hire or under contract, the disposal of the debris generated is to be included in the scope of the work.
If you have any questions concerning limb pick up you may contact Public Works - Maintenance at 337-527-4583
or Public Works - Ordinance Enforcement at 337-528-9534
.
Follow the link below for Mosquito & Rodent Control
More Information
Find content and services related to this page.