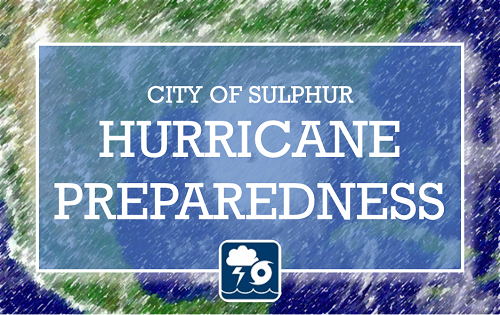 In the event that a hurricane is headed our way, we will update this page with important information regarding the City.
For Emergencies Dial 911
Hurricane season officially begins

June 1, 2018 and ends November 30, 2018.
The Office of Homeland Security and Emergency Preparedness encourages residents to put together an emergency kit and personal evacuation plan.
The National Hurricane Center, 2018 Hurricane names:
Alberto, Beryl, Chris, Debby, Ernesto, Florence, Gordon, Helene, Isaac, Joyce, Kirk, Leslie, Michael, Nadine, Oscar, Patty, Rafael, Sara, Tony, Valerie, William

Click here to download the Emergency Guide
Sign up for Sulphur's Notification System to receive notifications from the City.
Download the KPLC - 7 StormTeam Weather App, available for Apple and Android devices.

More helpful links to better prepare before any hurricane threat to our area.
PUT TOGETHER AN EMERGENCY KIT

Governor's Office of Homeland Security and Emergency Preparedness
www.getagameplan.org
MAKE PREPARATIONS
Ready.Gov
www.ready.gov/hurricanes
American Red Cross
www.redcross.org/prepare/disaster/hurricane
FEMA
www.fema.gov
STAY INFORMED

EMERGENCY NOTIFICATION SITES

Calcashout - sign up to receive notifications
www.calcashout.com
Emergency Notification Calcasieu Parish CPPJ Facebook
https://www.facebook.com/CalcasieuOHSEP
Emergency Notification Calcasieu Parish CPPJ Twitter
https://twitter.com/EmrgNoticeCPPJ
Nixle - Text your ZIPCODE to 888777
HOTLINES
Louisiana Attorney General Hurricane Hotline
1-866-351-4889

Road Closure Hotline
1-800-469-4828
Louisiana State Police
225-925-6325
www.lsp.org
LA Dept of Children and Family Services
www.dss.state.la.us
LA Dept of Transportation
www.dotd.louisiana.gov
Governor's Office of Homeland Security and Emergency Preparedness
1-800-256-7036
http://gohsep.la.gov/
NEWS
KPLC
www.kplctv.com
Southwest Daily News
www.sulphurdailynews.com

American Press
www.americanpress.com
Fox News
www.foxnews.com
KVHP - Fox 29
www.watchfox.com
CNN News
www.cnn.com
KHLA - 92.9 The Lake
www.929thelake.com
KBIU - 103.3
www.kbiu.com
KYKZ - 96.1
www.kykz.com
UTILITIES
Entergy
1-800-ENTERGY
www.entergystormcenter.com
Centerpoint Energy
1-800-477-0177
www.centerpointenergy.com
Cleco
1-800-622-6537
www.cleco.com
Beauregard Electric
1-800-367-0276
www.beci.org
WEATHER
National Hurricane Center
www.nhc.noaa.gov
The Weather Channel
www.weather.com
AccuWeather
www.accuweather.com
Associated Documents
CITY OF SULPHUR
CALCASIEU PARISH POLICE JURY